The NSW Government has recently changed the laws on keeping pets in strata schemes.  While the changes aren't necessarily COVID-19 related, they will make it easier to have a pet in an apartment if you're craving companionship in these socially-distanced times.
According to the Fair Trading website, "These laws recognise the changing nature of strata living and the increasing shift towards pet ownership as more people choose to live in strata-titled properties."
From August 25 2021, owners corporations can only deny a resident's request to keep a pet if the animal, "unreasonably interferes with another resident's use and enjoyment of their lot or the common property."
The animal can't be a nuisance, create hazards or unreasonably interfere with other residents. For example the animal can't persistently make noises, chase or menace residents, cause damage to common property, endanger the health of residents or cause an offensive odour that drifts into other lots.
It's still lawful for owners corporation to require residents to apply for permission to keep the pet and reasonable conditions can still be outlined in the by-laws.
Owners corporation can ask for details of the animal such as the name, type, breed and the age. They can ask for vaccination records and the microchip number, and also request a photograph.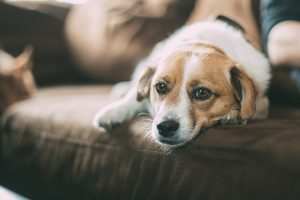 Strata schemes can continue to have by-laws that outline conditions for pets. These might include that the animal must be supervised whenever it's on common property, and residents must clean up after their pets.
With the changes, it's now illegal to have a by-law that prohibits outright the keeping of animals. If your strata scheme currently has a by-law that's now unlawful, at Netstrata, we'd recommend you contact your Strata Managing Agent so that the scheme's by-laws can be updated in line with the new laws.
If a pet is granted permission but then interferes with another resident's enjoyment of their apartment or the common property, there are steps that residents can take to resolve the situation. The first step is to address the issue with the owner; potentially they were unaware that their animal is misbehaving and a solution can be found. If the owner is subsequently unable to manage their pet, the local council can issue a nuisance order.
The final step would be removing the animal from the scheme through the NSW Civil and Administrative Tribunal.
In relation to assistance animals, a strata scheme can't have a by-law that prohibits the keeping of an assistance animal. The owners corporation can request evidence of the status of the assistance animal.
If you have any questions about keeping pets, please contact your Strata Manager at Netstrata.
Subscribe To Our Newsletter
Get the latest news updates from the Netstrata team.
SUBSCRIBE