The results of the RP Data-Rismark Home Value Index for June showed that the unit market has outperformed houses over the last 12 months and during the last five years.
Historically, houses have enjoyed a much more rapid appreciation in value than the growth recorded by units. There are a number of reasons for this more rapid level of growth: greater demand for houses, diminishing availability of development land, higher quality of stock and design available for houses rather than units and the greater Australian dream to own a house rather than a unit, amongst a number of other reasons.
Despite these factors, over the last five years units have recorded average annual value growth of 7.4% compared to 7.1% for houses. However, the results suggest that the superior performance of units compared to houses is quite a new phenomenon as over the last 10 years the average annual value growth of houses (9.9%) has well and truly outperformed units (8.0%).
The improvement in the capital growth performance of units in recent times is most likely due to affordability issues. Based on current capital city median prices, unit prices are recorded at $420,000 compared to houses at $495,000. Accordingly, units offer a much more affordable alternative housing option than houses.
Many unit developments, particularly newer units, are also in strategic locations and are where a large proportion of the market aspires to live but cannot afford to buy a detached home. In many cases, apartments provide a viable and relatively affordable option to buy into these markets. A good example of this is Bellevue Hill in Sydney. Bellevue Hill is one of the country's most expensive housing markets with a median house price of $3.85 million, unit prices in the suburb are recorded at $620,000, -84% more affordable than a house.
The inner city and well established residential areas enjoy high demand for units because in most instances they are: well catered to by local amenity including shops and restaurants, well located close to working nodes and are serviced by existing public transport amenity which is often not available in outer suburbs of the capital cities.
Over the 12 months to June 2010, unit values have increased by 11.4% compared to growth of 10.2% for houses. On a month-to-month basis, annual value growth for units has been outstripping that of houses fairly consistently since April 2008.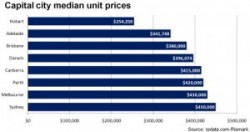 Throughout the individual capital city markets, the growth in the value of units has outperformed houses within Sydney, Brisbane, Perth and Darwin over the last 12 months.
Throughout the capital city markets Hobart has the most affordable units with a median price of $254,250 and Sydney the most expensive with a median of $450,000.
When the differential between median house prices and unit prices is analysed you gain a greater insight into the performance of the market.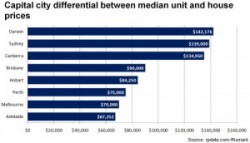 Darwin has the greatest differential between house and unit prices at $142,176 and the smallest differential is recorded in Adelaide ($67,252). Sydney, Brisbane and Darwin each recorded a differential in median price of at least $90,000 and these three cities each recorded a greater level of annual value growth for units rather than houses over the last 12 months. Perth also recorded a superior performance for units over the last year however, the price differential in that city is $75,000.
Although the popularity of units is increasing, since the onset of the Global Financial Crisis (GFC) many developers have found it much more difficult to obtain finance for higher density developments. This is due to the fact that the banks are becoming more risk adverse and the fact that a number of high profile higher density projects have either been cancelled or delayed. The latest building approvals data showed that over the year to June 2010 the number of approvals for private sector units has rebounded very strongly (57.7%) however, the monthly volume of approvals is still well below levels consistently recorded prior to the onset of the GFC, highlighting that finance for higher density product is difficult to obtain.
It's undoubted that units have significant appeal for price sensitive purchasers due to the fact they can own in a popular location at a far lesser price compared with a detached home. For investors, units are appealing because in most instances the rental yields are much higher than they are for houses. Across the capital cities, the average gross rental yield for a unit is currently recorded at 4.8% and for houses yields are recorded at 4.0%. The superior rental return achieved by units can be attributed to the fact that units are typically located in areas that have high demand: close to major transport networks, employment nodes or retail centres.